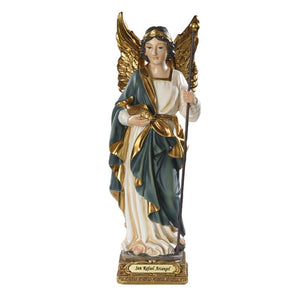 Saint Rafael (Raphael) Statue
Regular price $22.00 Sale
St. Raphael the Archangel is a main Biblical figure and can be found in the Book of Tobias in the Old Testament. In revealing himself to Old & Young Tobias, he said, "For it is good to hide the secret of a king: but honorable to reveal and confess the works of God." Tobias 12: 7.

St. Jude's Religious Home Delivery prides itself on finding beautiful, but inexpensive statues for your home AKA your Domestic Church. Inspired by Spanish craftsmanship, this new, beautifully crafted Barcelona Collection statue of this Archangel features hand-painted details and gold accents with a Spanish nameplate.

*ADD ITEMS TO GET FREE SHIPPING IN THE UNITED STATES.* — St. Jude's will happily pay standard shipping in the United States when you order $50 or more! Simply, type in "Free$50Shipping" in the Discount code box at checkout when you have $50 or more in your cart and you will receive free standard shipping.
Material: Resin
Size: 8" H