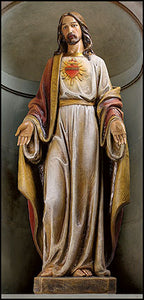 Sacred Heart Statue — Church Size — 4'
Regular price $650.00 Sale
48" Sacred Heart Statue
| | |
| --- | --- |
| ITEM NUMBER : | CB-AG-ND153-DS |
| | |
A beautifully rendered line of European style church-sized statues. Made from an Italian artist's drawing, and hand crafted and hand painted from start to finish, each piece honors the beauty and character of the fabulous wood statues of old. The statues are lovingly treated and painted so that every Basilica wood replica retains its natural hand carved look.
Each sturdy resin replica is moulded and reproduced in exact detail. Artisans devotedly paint these perfectly shaped figures with vibrant oils, highlighting each stroke of the carver's blade. These Milagros exclusive statues will make an excellent addition to any church or chapel setting.
-- Resin -- 48" H -- Basilica Church Statuary
***DROP SHIPPED ITEM*** This item will be shipped from our manufacture supplier. The return address will not be Saint Jude's return address; it will be from another address. But your charge will be from St. Jude's. — If you ordered non-drop shipped items with this dropped shipped item, then this drop ship item will arrive separately from the non-drop-shipped item/s you ordered. Also, drop shipped items are not guaranteed to in stock at our supplier or continued. Saint Jude's will make an effort to inform you of any changes from our supplier prior to our filling your order. Thank you.
**THIS ITEM QUALIFIES FOR FREE SHIPPING IN THE UNITED STATES!!!** — All orders over $50 qualifies for free standard shipping at St. Jude's. Simply, type in "Free$50Shipping" in the Discount code box at checkout. Add other items you want before checkout so you will not be charged shipping on them as well.