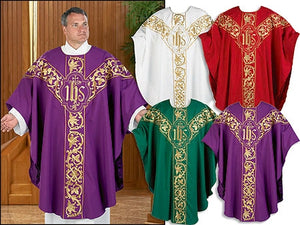 Roma Chasuble — Set/4
Regular price $680.00 $640.00 Sale
Embroidered Chasuble Set/4
Item #: CB-RJT-VG095-DS
The Roma Chasuble is fully embroidered on the front and back. The workmanship on this chasuble is rich with densely stitched fine gold thread. This is an incredible value!
Fully Embroidered Front and Back
Exclusive embroidered IHS design
Double hem-stitched for durability
Tailored for a beautiful drape
Fully lined with fine polyester satin - 49 1⁄2" L
Includes matching inner stole

 

Available in the most popular Liturgical colors
Please specify Green, Red, Purple, White, or Set/4 when ordering. -- Lined Polyester
***DROP SHIPPED ITEM*** This item will be shipped from our manufacture-supplier. The return address will not be Saint Jude's return address; it will be from  a warehouse in Lewisburg, Tennessee. But your charge will be from St. Jude's. — If you ordered non-drop shipped items with this dropped shipped item, then this drop ship item will arrive separately from the non-dropship item/s you ordered. Thank you.
**THIS ITEM QUALIFIES FOR FREE SHIPPING IN THE UNITED STATES!!!** — All orders over $50 qualifies for free shipping at St. Jude's. Simply, type in "Free$50Shipping" in the Discount code box at checkout. Add other items you want before checkout so you will not be charged shipping on them as well.