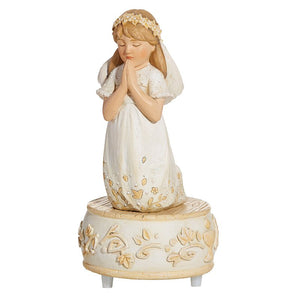 Remembrance 6.5" First Communion Musical - Girl
Regular price $50.00 Sale
Remembrance of Me Collection from Avalon Gallery™ presents this musical figurine designed to resemble hand-carved wood. The clean lines and whitewashed color palette bring a current, fresh approach to First Communion gift giving. Plays the Lord's Prayer. Gift boxed.
Material: Stoneresin
Size: 3" x 3" x 6.5" H
***DROP SHIPPED ITEM*** This item will be shipped from our manufacture supplier. The return address will not be Saint Jude's return address; it will be from another address. But your charge will be from St. Jude's. — If you ordered non-drop shipped items with this dropped shipped item, then this drop ship item will arrive separately from the non-drop-shipped item/s you ordered. Also, drop shipped items are not guaranteed to in stock at our supplier or continued. Saint Jude's will make an effort to inform you of any changes from our supplier prior to our filling your order. Thank you.
**THIS ITEM QUALIFIES FOR FREE SHIPPING IN THE UNITED STATES!!!** — All orders over $50 qualifies for free standard shipping at St. Jude's. Simply, type in "Free$50Shipping" in the Discount code box at checkout. Add other items you want before checkout so you will not be charged shipping on them as well.