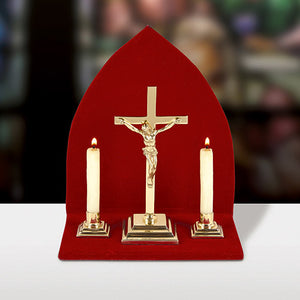 Altar Set with Stand
Regular price $80.00 Sale
Altar Set With Background - Crucifix
Sleek, solid brass Altar Set from Sudbury Brass™ with a red velvet background stand. Perfect size for a small chapel or home use.
Candles not included. -- Polished Brass/Velvet -- Stand: 7-1/2"W x 9-1/4"H cross" 7"H, 2-1/4" Sq Base Crucifix: Candlesticks: 1-5/16" Sq Base, 1/2" Dia Socket
***DROP SHIPPED ITEM*** This item will be shipped from our manufacture-supplier. The return address will not be Saint Jude's return address; it will be from  a warehouse in Lewisburg, Tennessee. But your charge will be from St. Jude's. — If you ordered non-drop shipped items with this dropped shipped item, then this drop ship item will arrive separately from the non-dropship item/s you ordered. Thank you.
**THIS ITEM QUALIFIES FOR FREE SHIPPING IN THE UNITED STATES!!!** — All orders over $50 qualifies for free shipping at St. Jude's. Simply, type in "Free$50Shipping" in the Discount code box at checkout. Add other items you want before checkout so you will not be charged shipping on them as well.