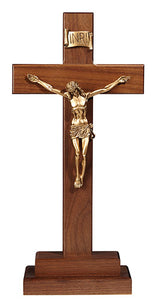 13" Walnut Standing Crucifix
Regular price $70.00 Sale
Item #: CBC-JB-A0768BRNZ-DS
We are pleased to offer James Brennan™ a full line of hand-crafted crucifixes and crosses. Known for his devout faith, keen understanding of the market and attention to the finest details, James has brought his 60+ years of experience to the development of this collection. These top of the line pieces are hand sculpted and cast in the United States using genuine lead-free pewter. Each piece is highly detailed and expertly finished to become a treasured family heirloom.
Crucifix is crafted using a walnut finish cross with antique bronze corpus, and arrives gift boxed.
-- Maple Hardwood/Walnut Finish Cross/Antique Gold Finish Corpus -- 13" H
**THIS ITEM QUALIFIES FOR FREE SHIPPING IN THE UNITED STATES!!!** — All orders over $50 qualifies for free shipping at St. Jude's. Simply, type in "Free$50Shipping" in the Discount code box at checkout. Add other items you want before checkout so you will not be charged shipping on them as well.
***DROP SHIPPED ITEM*** This item will be shipped from our manufacture supplier. The return address will not be Saint Jude's return address; it will be from a warehouse in Lewisburg, Tennessee. But your charge will be from St. Jude's. — If you ordered non-drop shipped items with this dropped shipped item, then this drop ship item will arrive separately from the non-dropship item/s you ordered. Thank you.