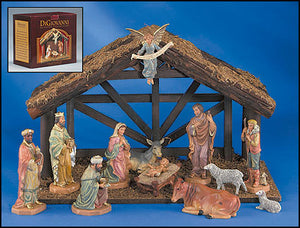 12-Pc Nativity DiGiovanni Set with Wood Stable
Regular price $170.00 Sale
Item #: CBC-AG-18023-DS
Collectors everywhere are marveling at our DiGiovanni nativity sets. Inspired by the old-world artisans of northern Italy, each hand-painted polymer figurine is an authentic replica of hand-carved wood pieces. Begin collecting these detailed nativity figurines for your family and continue a time-honored tradition of love and spirituality that will last a lifetime.
12 pcs per set.
Gift Boxed -- Polymer/Wood -- 15 X 7.75 14.25 H
**THIS ITEM QUALIFIES FOR FREE SHIPPING IN THE UNITED STATES!!!** — All orders over $50 qualifies for free shipping at St. Jude's. Simply, type in "Free$50Shipping" in the Discount code box at checkout. Add other items you want before checkout so you will not be charged shipping on them as well. 
***DROP SHIPPED ITEM*** This item will be shipped from our manufacture supplier. The return address will not be Saint Jude's return address; it will be from a warehouse in Lewisburg, Tennessee. But your charge will be from St. Jude's. — If you ordered non-drop shipped items with this dropped shipped item, then this drop ship item will arrive separately from the non-dropship item/s you ordered. Thank you.